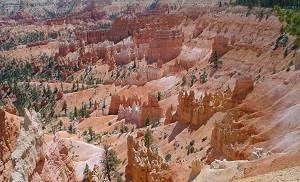 Diana Derringer shares with
us some challenging thoughts:
"Have you ever hit rock bottom, when you have
gone as low as you can go?
R
ock bottom may mean you have lost any or all
Money

Home

Job

Friends

Family

Self-respect

Energy

Desire to live

The list could go on and on.
Our suffering may be no fault of our own. However,
we often hit rock bottom because of poor choices.
In addition, we may have to hit the bottom before
we see the need to change.
At the bottom, we realize we can't keep making the
same mistakes.
Like hiking to
Yet, in order to survive, we must get out. So
one step at a time, we slowly make our way to the top.
Once we make it, we look back and understand
how far
we have come.
At the same time, poor choices may continue to tempt us.
When that happens, how do we keep from

hitting rock
bottom again?
-Remember where we were and where we want to be.
-Don't go places that will tempt us.
-Don't spend time with people who will tempt us.
-Find support from people who have also come up from
-Base our lives on a foundation that is solid as
a rock.
"The LORD is my rock, my fortress and my deliverer;
my God is my rock, in whom I take refuge"
By Diana Derringer on Aug 04, 2014 08:00 pm

Father, there are times we
are in desperate need, so
help us make up our minds
now, to come to You for help.

You are our rock, fortress,
and our deliverer.

Help us remember what Diana's
advice is about not hitting bottom again.

I want to please You and to keep my faith strong,
so ask for Your help to stay away from temptations,
which seem too strong for me.

May I begin to make better choices each day.

I ask this in the Name of Jesus, Amen.

Today's Bible verse:

Job 42:12a

"So the LORD
blessed the latter end of Job, more than his beginning."

Today's quote:

Our Daily Bread

–

"Even strong trials cannot blow down a person who is rooted in God."

Col. 2:7

Some thoughts today: Hope is for the future,
but
faith is for now.

- When God finds someone who'll obey His
Word — He moves!

What to do every day when you wake up…
(shared by Danica Sinclair Dunphey, —from
the sermon series on Ephesians by
Richard Sinclair. Listen to the messages
on http://www.cfconline.org/

"Wake up and remind yourself that this world is passing away, along with everything that seems so appealing; but that he who does the will of God abides forever.
Wake up and remind yourself that apart from Jesus Christ you can do nothing; but in Jesus Christ you can do all things."
Wake up and remind yourself that you will not live by bread alone, but by every word that proceeds out of the mouth of God. And that your meat is to do the will of God." (That's all of the notes from Danica, folks...Be sure to listen to some of the messages!)
19th- Tuesday's post: #111 Male Leaders and Female Intercessors C. Peter Wagner

21st- Thursday's post: #112 Go and Do It
C. Peter Wagner (Last Post from PRAYER SHIELD)

23rd- Saturday's post: I Need to Hold You
Jo Huddleson

24th- Sunday's post: Broken But Beautiful
Cindy Hess Kasper
A popular post:
How to Get a New Heart
Dave Branon shares with us:
"A friend who is a heart transplant cardiologist has an appreciation of
Ezekiel 36:26
that not many of us can understand.
Mike manages the pre-operation and post-operation care for heart-transplant patients.
He's often in the operating room as surgeons remove diseased, discolored hearts and replace them with vibrant, pink 'new' donor hearts."
Bridal Shower Devotional:
Bridal
My book in paperback
$7.95
(Check out the Reviews on the
Wisdom for Brides
(Christian
Marriage, Counseling, & Help)