Kathryne Leach: "Eat your breakfast, Kathryne."

"I heard those words constantly growing up. I'm not a breakfast eater to this day. Never have been. As a kid, I'd fake mom out by leaving a bowl and spoon in the kitchen sink with cereal and milk residue to avoid getting yelled at.

As an adult, I force myself to ingest a small amount of nutritional fuel along with my morning coffee. Yes, I'm a coffee lover … addicted and passionate about it. Coffee alone, however, doesn't provide the nutrition I need to energize my day.

But what about spiritual breakfast? As a Christian, do you ever struggle with reading your Bible in the morning? I know I do.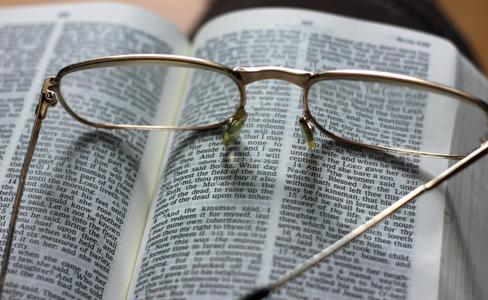 We know all the reasons we are supposed to read our Bible: to strengthen ourselves spiritually, encourage ourselves, grow our faith, increase our knowledge of God, increase our wisdom, and gain guidance.
It's like dieting; you know you should eat healthy. You know what to do but don't really want to. Here's what worked for me. I forced myself to eat healthy foods at first.
After a while, I begin to sincerely enjoy the taste. Once the enjoyment factor kicked in, it was easy sailing. I begin craving healthier foods.
Reading the Bible has followed the same pattern in my life. I started reading because I was told it was good for me.
Before long the spiritual food tasted so good I returned to the feasting table to dine with God readily—even eagerly.
If we view it less as lifeless drudgery and seek after the ultimate Writer Himself, the Bible will come alive. John 6 teaches the Spirit gives life while the flesh profits nothing.
When I began viewing my daily Bible time as personal time with God, it changed. It became less about the book and all about the Person.
Enjoying the Word of God is related to enjoying the God of His Word. Re-frame how you view your devotional time and eat your spiritual breakfast."
Jesus said, "I am the bread of life. . . If anyone eats of this bread, he will live forever; and the bread that I shall give is My flesh, which I shall give for the life of the world.? John 6:48-51 NKJV
(Photo courtesy of morguefile and cbcs.)
(For more devotions, visit us at
www.christiandevotions.us
.)
Enjoying God
Nov 27, 2015 | Kathryne Leach

Kathryne Leach
is a graduate of Webster and Madonna Universities, earning Master's and Bachelor's degrees. She is married, a very young grandmother, and shares her desk with two curious kittens.
Kathryne retired from a thirty-year career in criminal justice to write. Her inspirational devotions can be found at
www.healingwritingroom.com
.
(Photo courtesy of morguefile and cbcs.)
(For more devotions, visit us at
www.christiandevotions.us
.)
Father, I see that it is to my best interest to seek to know You better through daily prayer and Bible reading.

As I'd like to grow in my faith and knowledge of You, please enable me to become faithful in this endeavor.
Speak to me through the verses I read, as I'm hungry for more enlightenment from them.
When I'm hesitant to take the time to spend with You and Your Word, draw me by Your Holy Spirit to sit down and open the Bible, and wait on You to make Yourself known to me each day.
I ask this in the Name of Jesus, amen.
Today's Bible verses:
1 Tim. 3:16 KJV
"And without controversy great is the mystery of godliness; God was manifest in the flesh, justified in the Spirit, seen of angels, preached unto the Gentiles, believed on in the world received up into glory."
Ps. 47:6 KJV
"Sing praises to God, sing praises; sing praises to our King, sing praises."
Today's quote: Bill Crowder - "The Mystery of Christmas is how God could become man while remaining fully God. It defies human explanation, but in the perfect wisdom of God, it was the plan of the ages. "What child is this?" He is Jesus Christ—God revealed in the flesh."
God made His home with us so that
we might make our home with Him.
ODB 12/2015
Some thoughts today: You already have what you need the most: God's love.
(see Ps. 23)
~ Be bold, and share the gospel, 'though it may not be popular. Or do you put on a "costume" to win the favor of those you're with?

~ Preach to yourself the gospel of Jesus, not the wisdom of the world.

29th- Tuesday's post: #3 The Importance of Prevailing Prayer Wesley L. Duewel
31st- Thursday's post: #4 The Objects of Prevailing Prayer Wesley L. Duewel
Jan.2nd- Saturday's post: What Are Godly Decisions? Jean Oathout
3rd- Sunday evening's post: Forgiveness Does Not Come to Those Lee Forbes
A popular post:
Trusting God with Your Future
Mary Southerland
tells us, "In an effort to escape the brutal summer heat of South Florida, our family headed to the beautiful mountains of North Carolina..."
We've not seen this yet
this year, but it's coming...
The report is that 8-10" of
snow is due this Tuesday or
Wednesday in our area.