From Word Ministries - "Does
God have
freedom to reign in
your life? He stands
at
the door
and knocks waiting
for you to
At your invitation He will come
to the table and eat with you.
Then you can take Him on a tour of your tri-level house. You are spirit, soul and body.
Your spirit is a partaker of the Father's divine nature, but your soul is saved through the engrafted Word of God.
The sovereign Lord will walk with you through the corridors of your soul waiting for you to unlock the doors that protect emotional wounds, fears, self-centeredness, resentment and unforgiveness.
As you open each door He heals all your diseases and forgives all your iniquities. Give Him permission to take control.
He will bind up and heal your brokenness, and you will discover that you are complete in Him.
Prophesy and declare over yourself: My God reigns! The choice is yours.

PRAYER:
Heavenly Father, You are the Lord of my life. You made my spirit the candle of the Lord that searches out my innermost being, and I submit to the Holy Spirit who searches my heart and He knows Your will for my life.
Everything is exposed to your Word, and I submit to the constant ministry of transformation by the Holy Spirit. Thank You for healing all my hurts, fulfilling all my needs and for helping me process and resolve all issues perfectly with the Word of God.
I choose this day to submit to your Lordship and declare with confidence: My God reigns over my life! Amen."
Our God Reigns ©2014 Word Ministries, Inc.

S

cripture Reading:
Luke

4:18


Proverbs

20:27


Romans 8:26-27
Hebrews 4:12-13
By JillSavage on Jul 14, 2014 09:55 am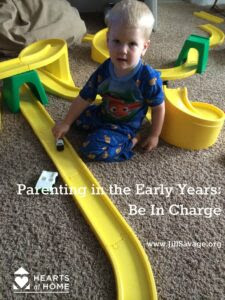 "Mark and I have the joy of having 2 or our 3 grandkids all this week while Mom and Dad take their church youth group to a week-long youth conference.
I'm knee-deep in diaper, sippy cups, and cutting up food at mealtime. Because of the age range of my five kids, we had a preschooler in our home for 17 straight years. I can tell you that even though it's not a part of my everyday now, Mark and I have slipped right back into the rhythms and routines of the preschool years.
This week I'll be sharing strategies for parenting in the early years. Today's strategy is: BE IN CHARGE.
Have you ever played pinball? You shoot the ball into the pinball machine and it is bounced around from boundary to boundary. Parenting preschoolers is very similar. Our little ones are looking for their boundaries..."
(I hope you'll check out Jill's post today, as she gives some valuable advice.)
F
ather, I ask for Your help to discern what
is Your will for my life.

I do know You love me, and that You have a good plan for me.

I open up my heart to You, to show me my needs, so You can bring the healing necessary for me to be whole.

I ask for the confidence that You are reigning in my life, and that You'll guide me.

May Jesus be glorified in and through me. Amen.
Today's Bible verse:

Is. 53:4-6 NIV v6

"
But he was pierced for our transgressions, he was crushed for our iniquities; the punishment that brought us peace was upon him, and by his woulds we are healed."
Today's quote:
Jill Savage
– "Children learn from watching us—for good or for bad. We must model the virtues we want to instill. If we don't, the exact opposite will occur. If they watch us enough times, we will be watching them lose their patience for hundreds of days to come, and that will bring much sorrow."
Some thoughts today:
It's been said that many people have knowledge, but do not know how to use it wisely. For instance, something is said at the wrong time. Prov. 15:2 tells us that "the tongue of the wise uses knowledge rightly, but the mouth of fools pours forth foolishness."
- D
on't curse yourself! Speak affirming, encouraging words instead. Speak what you want to be, not what has been. Let the past be just that--the past. Desire better attitudes and circumstances for yourself.
- Allow God's Spirit to help you.
20th- evening's post: Are You Protected? Jean Oathout

22nd- Tuesday's post: #103 Maintaining the Intercessors C. Peter Wagner

24th- Thursday's post: #104 Pray for Your intercessors C. Peter Wagner

26th- Saturday's post: Will the Roof Really Cave In? Tammie Johnson
A popular post: The Spiritual Saint

Oswald Chambers tells us, "You no more need a holiday from spiritual concentration than your heart needs a holiday from beating."
I invite you to check out the above link, to see the many interesting topics and their links.
Kindle

$.99
Bridal Shower Devotional
My book in paperback

$7.95
Bridal Shower Devotional